Belly Dance
Instructor: Professional Belly Dancer Jillanna Babb
For more information about Merrybellies Belly Dance classes, troupes, and performances, please visit Merrybellies Belly Dance.
"Every Oriental dancer must express life, death, happiness, sorrow, love and anger, but above all she must have dignity."—Tahia Carioca (1915-1999)
Important Notes
Bring water!
It is important for beginners to wear form fitting clothes so that the movements of the body can be seen to better learn.
Wear comfortable, stretchy clothing such as yoga pants, fitted t-shirts, choli tops or other cropped tops.
A hip scarf or hip belt helps beginners to see the movement of the hips.
Practice barefooted, in socks (toe socks are great!) or wear dance/ballet/lyrical footwear.
If you must arrive late, please warm-up/stretch before jumping in.
Belly Dance Benefits:
Improve coordination, balance, muscle tone, and posture.
Reduce stress
Tone and sculpt the arms, legs, and especially core muscles
Learn graceful movement
Get really strong quadriceps
Strengthen and increase flexibility of the spine.
Learn new music and culture
Make friends
Join a performance troupe
Gain self-confidence
Enjoy self-expression
Gain personal achievement
Have fun while doing any or all of the above!
PRENATAL BELLY DANCE
While studying midwifery at WomanCraft in Amherst, MA, Jillanna was inspired to develop a belly dance class format focused on helping women to enjoy a healthy pregnancy, birth and postpartum. She intuited that belly dance movements could help especially during labor, and began to combine her study of midwifery with her passion for belly dancing to create Merrybellies Belly Arts, with her first classes focused on prenatal and postpartum belly dance. Some movements of belly dancing just "happen" during natural labor when the mother is not confined to the bed. Other movements are less known, but can be helpful in the relief of discomfort, the achievement of optimal fetal positioning, and also in the provision of the basic healthy benefits of exercise. Postpartum belly dance aids in recovery and return of muscle tone, and also can be soothing to babies held in arms or sling while mother dances.
Jillanna teaches prenatal belly dance classes, workshops, and private lessons. She also loves to demonstrate helpful movements at baby showers! Another option for pregnant and postpartum mothers is to join a beginner belly dance class; Jillanna's classes are small and personalized, and she will make sure you learn the right moves and avoid those that are unsafe for pregnancy and postpartum. Jillanna has twelve years experience in the development of her format, movement vocabulary and teaching experience, plus an advanced degree in midwifery; doula training through WomanCraft Midwifery and ALACE; advanced doula training in Optimal Fetal Positioning through DONA; and more than seven years doula and midwifery apprenticeship experience.
For more information or to inquire about the next round of prenatal belly dance classes, please call, text or email.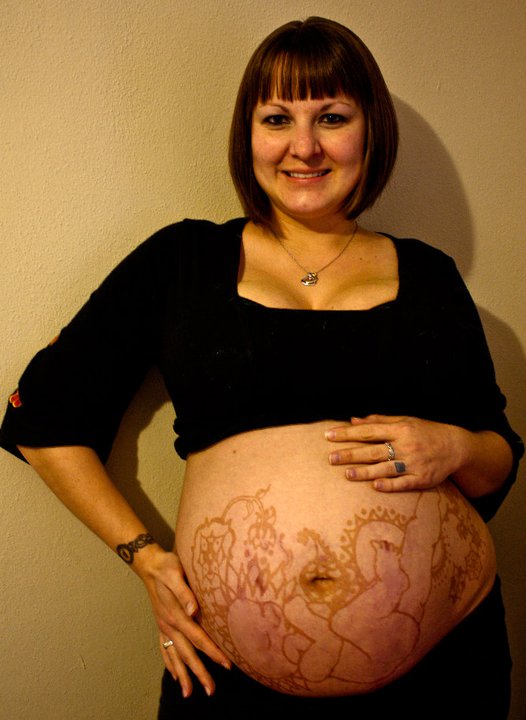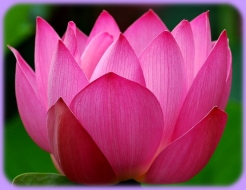 To dance is to be out of yourself. More beautiful, more powerful.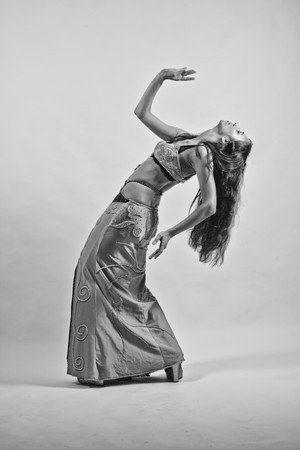 "The first time that I heard of the Merrybellies was when they performed at Hallowcon. I enjoyed their performances, but I never fathomed being a dancer. Then my friend started taking classes with Jillanna and would try to get me to go. I always found an excuse not to. Then my friend performed at Hallowcon, and I could see that she was having a blast! The next week I contacted Jillanna and signed up for a beginner class. One year later I am in the Pixie Dust dance troupe, I have performed at Hallowcon, and I am working on my first solo choreography. Belly dance has increased my self-confidence, my self-esteem, and I have made some wonderful new friends. Now I can't imagine my life without belly dance!"
—Megan